Well hello superfood! Quinoa is an edible seed that is high in protein, iron, fiber and magnesium – and goes with just about everything in the food lexicon. However, despite all of its healthy properties, quinoa is one of those things that, until recently, my husband (who is a ravenous eater of all things) referred to as 'hacky-sack food.' I'm happy to report that he's pulled a full 180 on his perception – and now regularly suggests we whip up a batch for dinner. Nutty and substantive (yet light), quinoa will fill you up at dinnertime, and won't do any damage to your bikini-body. Here are five easy and delicious quinoa recipes to keep you beach ready this summer!
1. One Pot Quinoa Enchilada with Shredded Chicken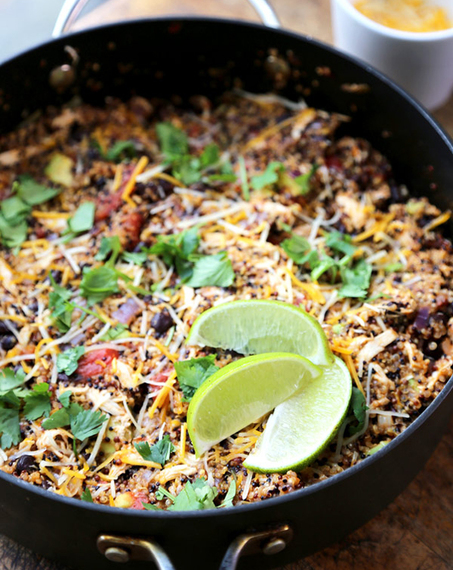 This simple recipe is spicy from use of jalapenos and enchilada sauce, creamy with avocado and a little cheesy. Aside from very few dishes to clean up after dinner, there's nothing better than a ton of flavor coming from a one pot meal. Even though I use chicken, you can use other proteins including seafood – or leave it out altogether to make it vegetarian.
GET THE RECIPE
2. Edamame Quinoa Salad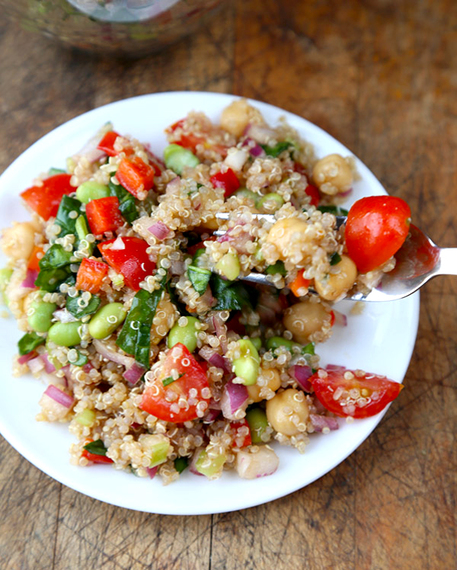 Been a little naughty lately? Sure, having a late night feast from Shake Shack or In-N-Out is awesome. This quinoa salad is loaded with good stuff like spinach, garbanzo beans and edamame which will put you right back on track to looking and feeling your best. Oh – and it's delicious too!
GET THE RECIPE
3. Zesty Quinoa Salad with Roasted Vegetables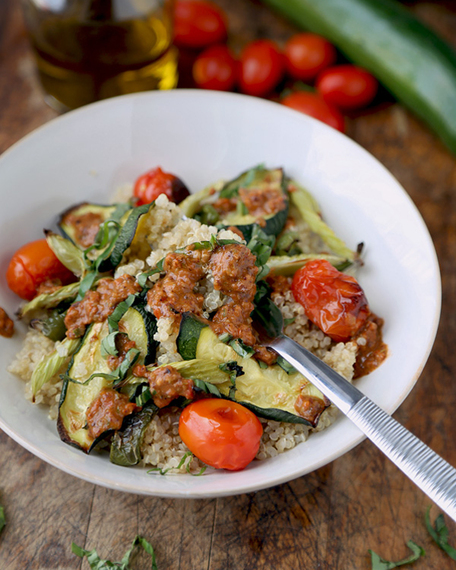 Baking or grilling veggies to caramelized perfection is one of my favorite things. The nuttiness of the quinoa plays nicely with the natural smokiness of the broiled zucchini and tomatoes – and is then elevated by a savory and punchy dressing that only requires a quick spin in the blender.
GET THE RECIPE
4. Crunchy Quinoa and Kale Salad with Peach Dressing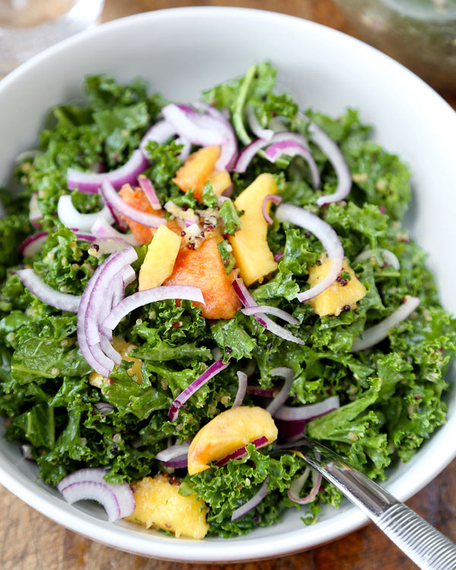 Seems like every restaurant I've been to in the past three years has a kale salad on the menu (often to the derision of my dining companions). Yeah – kale is everywhere. But that's because it's good for you and super receptive to most ingredients you throw at it. This kale salad recipe gets a nutty crunch from toasted quinoa, and a refreshing zing from the maple/dijon vinaigrette and ripe peaches. All-star tasty!
GET THE RECIPE
5. Quinoa Stuffed Peppers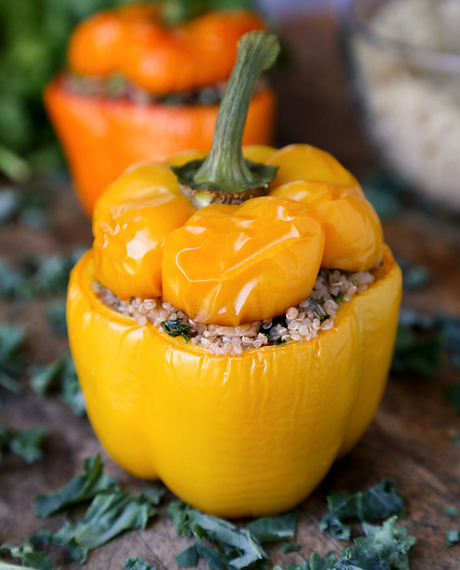 For once, the quinoa is the real star of the recipe! The savory quinoa mixture acts as the umami counterpoint to the to the natural sweetness of the bell pepper. The flavors are so pronounced that you almost forget that it just happens to be good for you.
GET THE RECIPE
If you've never cooked with quinoa, fear not! Here's a quick guide on how to cook quinoa.