I have always wanted to try this, but it seemed very "summering in Martha's Vineyard" or like…"let's pop over to that little island in Greece for the day, the water was DIVINE there." Basically, fancy people food. Like, real fancy. You're essentially building a personal oven for your fish, which, just by the sound of it, seems super fussy and complicated.
Here's the awesome thing: It's not. This is a cooking technique beloved by fishermen, and now me, because of its ease and foolproof-ness. Plus, the supplies are cheap. All you need for succulent, perfectly cooked fish every single time is some salt and egg whites.
I was inspired by the idea a few months ago at a dinner with my girlfriend Laurel. We ordered a whole fish, and there it came in its little oven. The waitress cracked it open with flourish, and it was delicious. Laurel then told me about her wonderful orange salsa that she had been whipping up, and I thought "Yeah… this would be good," and started furiously typing ideas into my phone. So here we are a little later: salt-roasted fish with spicy orange salsa.
Here's the science of it: The salt crust creates a little oven that absorbs steam (unlike a steamer), thus locking in the fish's juices, and protecting the fish from the dry heat of the oven. Because the fish is whole with the skin on (which you remove before serving), the salt doesn't go into the fish, so don't worry about it being over seasoned.
Enjoy!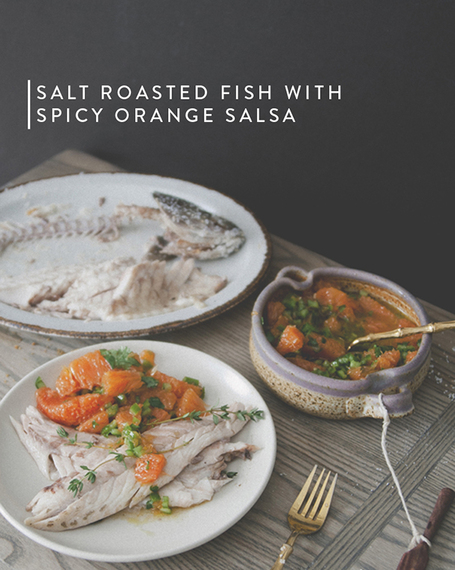 INGREDIENTS
For 2 to 4 (depending on the size of the fish)
6 egg whites
3 cups kosher salt
1 bunch fresh thyme
1/2 bunch fresh basil
1 whole 1-to-2-pound black sea bass (rainbow trout is also delicious), cleaned and gutted
DIRECTIONS
Preheat the oven to 450F. Whisk the egg whites till they form soft peaks, then fold in salt. Place the thyme and basil in body cavity of fish, and set the fish aside for the moment. Spread a quarter of egg-white mixture on a large oven-safe dish. Set the fish on top, and cover with the rest of the salt mixture, patting it around the fish to enclose it completely.
Place the dish in the oven, and bake for 25 (30 minutes for 2 pound fish), until the crust is nicely browned and completely hard. Remove from oven and allow it to rest for 10 minutes. Push the needle of a meat thermometer through the crust into the fish. If the temperature measures 120 to 125 degrees, it's ready. If not, let it cook for five more minutes and check it again.
Using a wooden spoon, strike crust to crack. Carefully remove pieces of salt crust from top of fish and divide meat among six plates. Serve with tons of spicy orange salsa.
INGREDIENTS (SPICY ORANGE SALSA)
1 cup orange, cut into supremes
1/4 cup cilantro, roughly chopped
1 serrano or jalapeño pepper, finely chopped
2 tablespoons fresh orange juice
1 tablespoon lemon juice
3 tablespoons olive oil
1/2 teaspoon ground cumin
1 garlic clove, minced
kosher salt and freshly ground pepper
DIRECTIONS
Combine all of the ingredients in a bowl, lightly stirring to combine. Set aside in the fridge for 30 minutes to let the flavors mingle.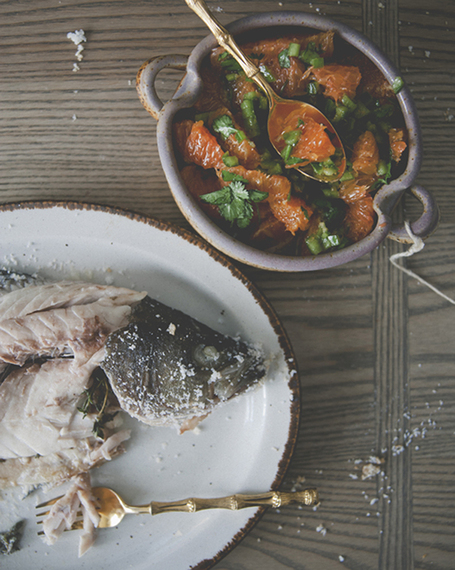 For more recipes like this one, check out my blog The Kitchy Kitchen.