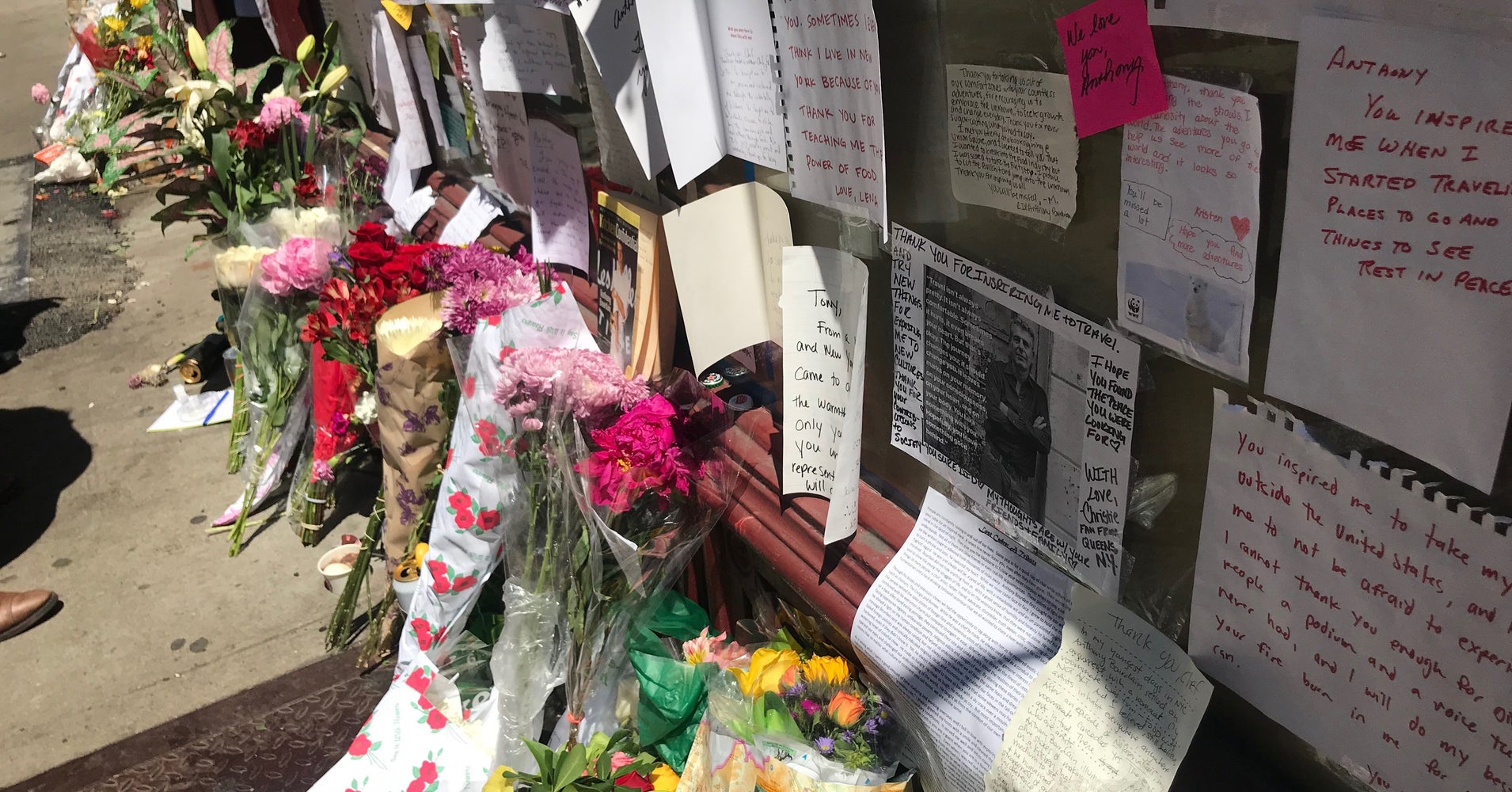 Fans and mourners crowded outside New York's Brasserie Les Halles on Monday to pay their respects to its former executive chef, Anthony Bourdain, who died last week in a reported suicide.
Bourdain got his start at the now-closed New York restaurant and later immortalized his time there in Kitchen Confidential, the book that thrust his reputation from chef to celebrity. Though Bourdain hadn't been affiliated with the restaurant in years, the French brasserie referred to Bourdain as a "chef-at-large" as recently as spring 2016, according to Eater.
Notes written in dozens of languages covered the Park Avenue brasserie's papered-up windows, both thanking Bourdain for his work and offering hope and support for those struggling with their own mental health issues.
Flowers, wine and bottles of Fernet-Branca, a liqueur favored by restaurant insiders, lined the ground surrounding the restaurant. Some mourners left packs of Marlboro Reds, Bourdain's cigarette of choice.
Many of the neighboring restaurants used the space to pay homage to the late chef as well. Eleven Madison Park, which was named the world's best restaurant in 2017, taped a set of Sharpies to the windows.
The immense popularity of Kitchen Confidential in 2000 sparked Bourdain's nearly 20-year television career. The chef-turned-TV host landed shows on the Food Network, the Travel Channel, and most recently, CNN, where he hosted the and Emmy Award-winning docuseries "Parts Unknown." The program brought viewers all over the world while Bourdain sampled authentic cuisine and spoke with local chefs.
Bourdain's work outshined other travelogue-style shows by focusing on the people and culture of his destinations just as much as the food itself. Many of the notes at Les Halles on Monday thanked Bourdain for his ability to spotlight their own cultures without relying on stereotypes or oversimplification.
One note taped to Les Halles' windows thanked Bourdain "for bringing a respectful view of the people of Palestine, Libya, Iran and more." Another note thanked him for "helping Mexican chefs make it in NY."
At its height, Les Halles had two New York restaurants, as well as a handful of outcroppings in Miami, Tokyo and Washington D.C. Manhattan's Park Avenue location, the first to open, closed down in 2016 and further downtown, the Financial District haunt followed suit in 2017. Signage remains on both.
See the photos of the tribute at Les Halles below.