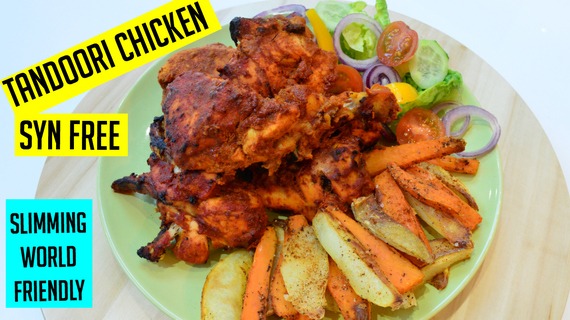 Healthy Chicken Tandoori which is Slimming World Friendly and Syn Free! The Tandoori Chicken is marinated in fat free natural yogurt and delicious tasty spices.
If you are on Slimming World and Weight Watchers, don't worry this syn free, sure to go with your diet and you will love it!
You should already have most of the ingredients in your cupboard, its so quick and easy so lets get started!
INGREDIENTS
============
1 Chicken (Visible Fat Removed)
2 tblpn Yoghurt (Fat Free)
1 tblspn Tandoori Masala Powder
1 tspn Cumin Powder
1 tspn Curry Powder
1 tspn Powder
Salt to taste
1 tspn Ginger and Garlic Paste
1 tblspn Tomato Puree