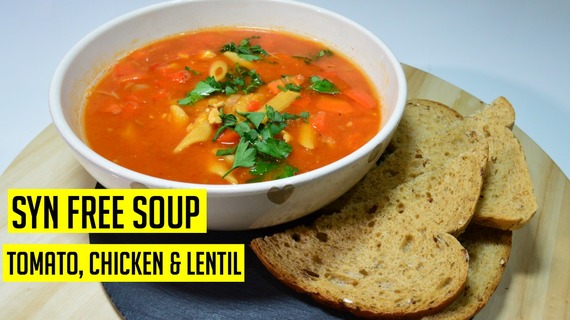 This Chicken Tomato Soup is amazing!
When its cold outside, warm yourself up with this wonderfully healthy chicken tomato soup, bursting with flavour with an indian twist and as always, so simple to make.
If you are on Slimming World or Weight Watchers or any other diet plan this would be perfect for you also!
INGREDIENTS:
Chicken Fillet (cut into pieces) – 200g
Tomato Passata – 200g – OR you can use chopped tomatoes blitzed in a machine.
Red Lentils – 1/2 cup
Pasta of your choice – Handful
1 small Onion – Chopped
1/2 Red Pepper – Chopped
1 Carrot – Chopped
1 teaspoon Red Chilli Powder
1/2 tspn Oregano
Salt to taste
1 tspn Cumin Powder
1 tspn Crushed Garlic
Spray Oil
For Garnishing – Parsley OR Coriander Leaves OR Basil