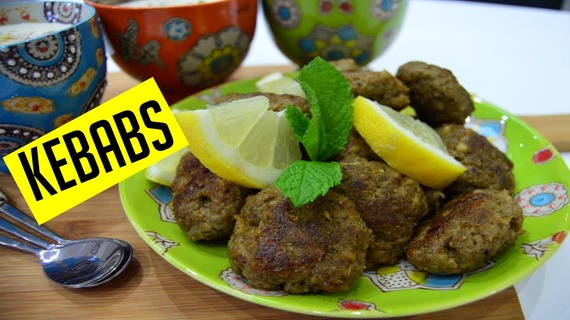 Home made Lamb mince Indian Kebabs are so popular.
Its an easy to make fried snack which can also be made with chicken mince.
It compliments any main dish or great by itself!
If you have any questions, TWEET me
Their are lots of different ways to make this, and I'm going to show you an easy version, anyone can make.
If this is your first time, hit subscribe to stay up to date with new recipes every week! If you enjoyed this video, please do give me a thumbs up and with that being said, let get started!
Ingredients
Ingredients:
Lamb Mince – 800 grams (Blitzed in the machine, to make it smooth)
Slices of Bread – 3 (Blitzed in the machine, to make breadcrumbs)
Oil
Black Pepper – 1 teaspoon
Garam Masala – 1/2 teaspoon
Cumin Powder – 1 and 1/2 teaspoon
Coriander Powder – 1 and 1/2 teaspoon
Red Chilli Powder – 1/2 teaspoon
Salt to taste
Below Items will be grinded together in machine or you can use a pestle & mortar:
Fresh mint – small handful
Onion – 1
Fresh Ginger
Fresh Garlic
Fresh Chillies
Fresh Coriander Leaves
================
WHERE ELSE TO FIND ME
FACEBOOK
INSTAGRAM
TWITTER
SNAPCHAT
cookwithanisa.com
================
I upload weekly recipes so you might as well subscribe!
This channel is for anyone who loves food and and how to cook from student's to someone preparing for marriage or even if you are just in need of some inspiration!

I live in Leicester, England and have learnt from the the best Chefs, who have taught me everything from savouries , delicious, tasty mouth watering home made good food, snacks to sweet dishes, desserts and more!
If you have any questions, quickest way to contact me, TWEET me @cookwithanisa
I will try my best to help you.