Breakfast is the most important meal of the day, as the saying goes. 
So naturally parents want to start their kids off on a healthy, happy note with breakfasts that are both nutritious and delicious. HuffPost asked several nutritionists what they serve their children in the morning, and they shared their general guidelines and kid-approved recipe ideas. 
Smoothies
"My children start their day with a smoothie. I find that a smoothie is the perfect mix of fruit, veggies and protein, and is an easy grab-and-go option ― i.e., they can finish it in the car on the way to school ― if they take a little longer to wake up in the morning. We tend to add extra vegetables to their smoothies (spinach, avocado, kale, pureed sweet potato, etc.) ― not to necessarily 'hide' the veggies, but to serve them in a way that's smooth, sweet and blended well with fruit and full-fat proteins like yogurt and milk." ― Katie Serbinski, a registered dietitian and founder of Mom to Mom Nutrition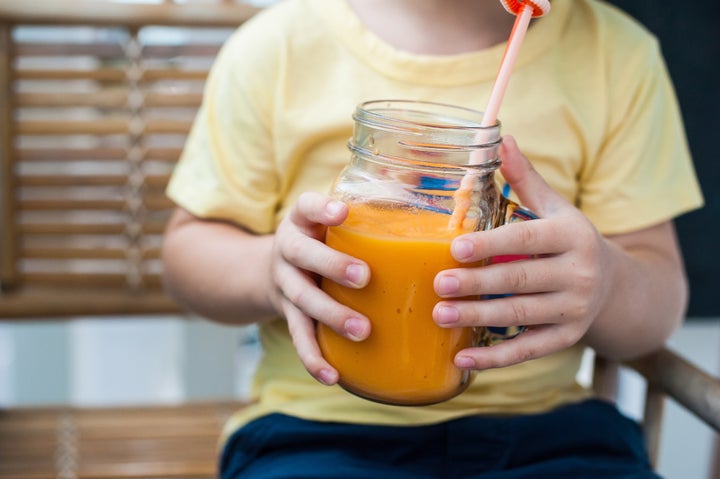 "Almost every morning, I make my son a smoothie for breakfast. I blend together plenty of nutritious ingredients like banana, Greek yogurt, spinach, oats, berries and milk. I sneak in blueberries that he would not otherwise eat! He loves his smoothie and enjoys it with some whole wheat toast." ― Kath Younger, a registered dietitian and blogger at Kath Eats Real Food 
Cereal
"Call it a holdover from my childhood of pouring my own bowls of cereal, but I still do this for myself and my kids. Most mornings our breakfasts are centered around high-fiber cereals, with my kids enjoying a bowl of either a raisin bran-type cereal or a shredded wheat variety. My kids, like me, are supposed to be getting at a minimum 25 grams of fiber each day. I find that without a bowl of fiber-rich cereal, it's really hard to meet this goal. Plus all that fiber is a big boost to keeping their gut health happy." ― Regan Jones, a registered dietitian founding editor at Healthy Aperture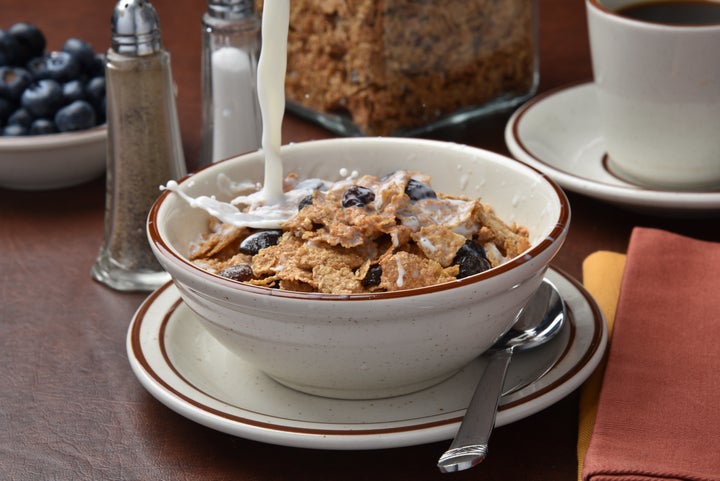 "My kids are 12, 10, 7 and 5. They eat cereal and milk nearly every day for breakfast. They make their own breakfast; this gives them control. When kids are in control, they tend to eat what they choose. But I choose which cereals come into the house. Since they were little (when I poured their cereal), we've gotten into a habit of pouring in whole grain Cheerios (or the more budget-friendly store brand) and topping it with what we call a 'sprinkle cereal.' This is a more sugary cereal, but it must have some nutritional value like fiber or fruit. Our 'sprinkle cereal' rotation usually includes: Frosted Mini Wheats, Raisin Bran, Strawberry-Flavored Cheerios, Wheat Chex, Kix, Crispix. One more thing: I always ask them to drink all the protein-rich milk from the bottom of their cereal bowl (which will help them feel full till lunch). If they absolutely don't have time to finish their milk, I put it in the fridge and the bottom-of-the-bowl-milk is part of their after-school snack, to avoid food waste and avoid tossing all the vitamins that soak out of the cereal into the milk." ― Serena Ball, a registered dietitian and health blogger at Teaspoon Of Spice
"Cereals are fast and easy. I look for ones that are 5 grams of sugar or less per serving, in addition to ones that have no added sugar. We will top them with seasonal fruit and/or nuts and seeds to boost the nutrient content. Some of the staple cereals we always have are no-added-sugar muesli with nuts (we like this because although calorically dense, both of my kids are active and exceed 60 minutes of physical activity daily so they need the nourishment). We also have plain Toasted O's with no added sugar and Multigrain Spoonfuls. When dairy is involved we use 1% lactose-free organic milk. Our nondairy alternative is no added sugar carrageenan-free organic almond milk or unsweetened organic vanilla soy milk." ― Maya Feller, registered dietitian and owner of Maya Feller Nutrition
Yogurt Parfait
"Our favorite go-to is a yogurt parfait ― fresh or frozen fruit, Greek yogurt and some type of granola. Kids eat with their eyes, so when put in a white bowl all together, they're not interested. When put in a tall, clear glass (we happen to have those milkshake type cone-shaped glasses), they eat it up. Fruit. Protein. Grains. Voila." ― Christopher Mohr, a registered dietitian and co-founder of Mohr Results with Kara Mohr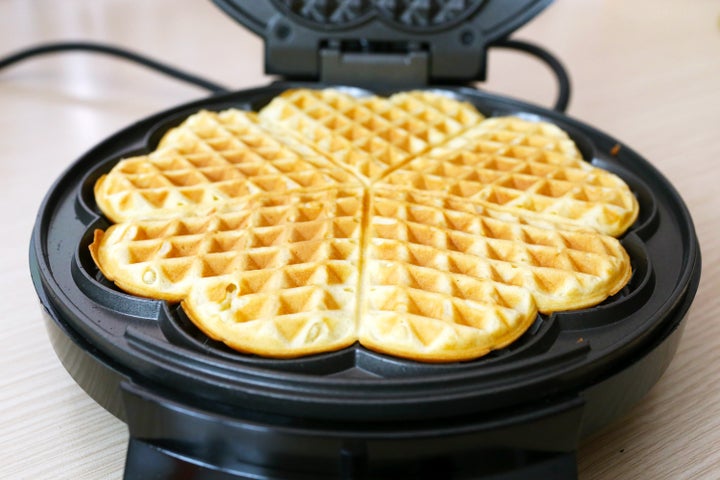 Waffles And Pancakes
"I like my kids to have a hearty breakfast before I send them off to school but there isn't always time to make a full breakfast. That's why I rely on my stash of waffles and pancakes that I've made ahead of time and frozen. The girls can easily reheat them by placing them back into the waffle iron (for both waffles and pancakes) or in the toaster oven. I also keep a jar of my homemade 'berry sauce' on hand, which is really just frozen berries that I've cooked down into chunky sauce and added a splash of vanilla and pure maple syrup to. The sauce is a great way to get more antioxidants and fiber into them while keeping their sugar intake lower. On the side, I'll serve organic chicken sausages that I've precooked so they can just reheat and eat those too. I've found this to be a great way to get a healthier and heartier breakfast in them while also giving them some independence and skills in the kitchen." ― Jessica Beacom a registered dietitian nutritionist and co-founder of The Real Food Dietitians 
Eggs
"Breakfast is our favorite meal. My youngest daughter prefers egg burritos, which we make with organic flour tortillas, scrambled eggs and shredded cheese. My son prefers regular scrambled eggs, and my oldest daughter likes her eggs cooked over easy with a side of buttered whole wheat toast. All three of my kids drink organic milk and sometimes grapefruit juice. My wife keeps already cleaned and cut fruit in the refrigerator ready-to-go for the kids to eat; so fruit often makes it into our breakfast as a side dish or, sometimes, into the pancake or waffle batter." ― Rick Hall, a clinical professor and registered dietitian at Arizona State University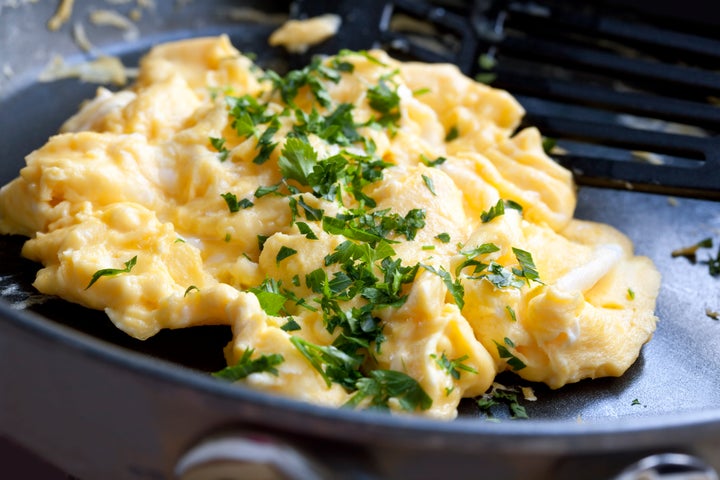 "More often than not, I fixed them eggs of some sort along with fresh fruit and a glass of milk. Sometimes just over easy, sometimes scrambled in a mug with cheese in the microwave, sometimes wrapped up in a flour tortilla. I found that it filled them up and kept them going until lunch. Now that they're both young adults, they've kept up the tradition and are egg chefs extraordinaire ― doing complicated omelettes and sandwiches with some pretty crazy ingredients!"  ― Bridget Swinney, a registered dietitian and founder of Eat Right Mama
"One of my kids' favorite breakfasts is scrambled eggs with cheddar cheese on a toasted mini bagel with fresh fruit (cantaloupe, banana or berries) and nonfat milk. I use four eggs (two yolks) and two thin slices of organic cheddar cheese to make the eggs. This meal gives them high-quality protein to keep them energized, calcium for strong bones and teeth, and fiber plus lots of vitamins and minerals (especially from the colorful fruits). Though I'd prefer they more fiber-rich whole grains (e.g., whole wheat toast or a scooped out whole wheat bagel), they prefer the plain mini bagel. Allowing them to have this small portion of refined grain shows them that all foods can fit." ― Elisa Zied, a certified dietitian nutritionist and author of Feed Your Family Right!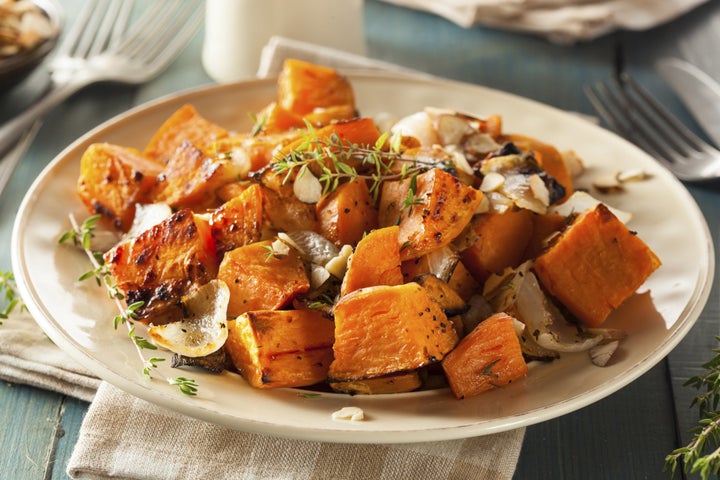 Lunch Or Dinner Food
"Consider stepping outside of the breakfast food box and serve lunch and dinner foods such as chicken drumsticks, meatballs and a baked sweet potatoes topped with butter and hemp seeds." ― Laura Lagano, a registered dietitian and owner of Laura Lagano Nutrition
Protein
"I have a 10-year-old daughter, and she goes through phases on what she wants for breakfast. My biggest push is to get enough protein in her to keep her alert and energized until lunch time (usually in the form of milk, eggs, peanut butter and/or granola bar), and I try to get a fruit and dairy serving in also, as well as water if she's not drinking milk, as I never think she drinks enough water at school. She's still in elementary school and wakes up pretty early (6 a.m. or 6:30 a.m.), so we are not rushed to get breakfast, which helps, as she usually isn't hungry until 7 a.m. or so. Here are some of her preferred breakfasts: egg and bacon sandwich on whole wheat bagel with fruit; cereal and milk with peanut butter on toast with fruit; BelVita protein breakfast biscuit with chocolate milk steamer and fruit; and oatmeal made with nuts, fruit and milk." ― Deanna Segrave-Daly, a registered dietitian and health blogger at Teaspoon of Spice
"It's crucial that everyone consumes protein with fat as a first meal ― regardless of time. Suggestions include traditional eggs with bacon (yes, bacon!), coconut yogurt sprinkled with hemp seeds, multigrain bread with sunflower seed butter, avocado and tomato salad with olive oil and sea salt, steel-cut oatmeal with walnuts and oat milk, and salmon (canned or fresh) with seaweed. A morning or first meal that contains protein and fat, rather than carbohydrates, is important because it provides more satiety, creating a feeling of fullness. Plus, protein and fat together do not create the blood glucose spike and drop that carbs trigger, resulting in poor attention." ― Lagano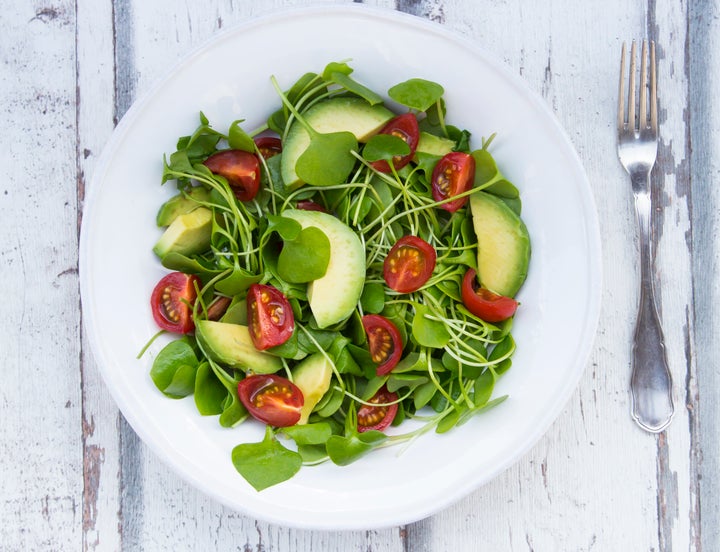 Leftovers
"My kids are 7 and 10. My older daughter will eat leftovers for breakfast: homemade mac 'n' cheese, pasta with chickpeas, that sort of stuff. My younger daughter loves oatmeal, and sometimes cold cereal. I try to choose the healthiest one I can find (that she'll still eat!)." ― Abby Langer, a registered dietitian and founder of Abby Langer Nutrition
Whole Grains
"Some families may face food insecurity, so balanced breakfasts in the classroom and cafeterias are part of the solution. However, for families who want to more choices in preparing morning meals for the kids, I'd suggest whole grains. Millet porridge, whole oats or multigrain pancakes (with cinnamon and raw honey) instead of refined sugary cereal grains provide a constant flow versus spikes in blood secure ― meaning not-jittery kids and less work for teachers who feel like they become 'behavioral management specialists.' I also sometimes choose a plain yogurt, be it dairy, soy or coconut options, with locally made whole grain granola and frozen blueberries. This translates into healthy probiotics for gut health without the high-fructose corn syrup. You get your grain, dairy and fruit in. I also make crustless salmon quiche that I sneak spinach, tomato and broccoli with a whole grain toast and fresh fruit preserves or a jelly or jam." ― Tambra Raye Stevenson, founder and culinary nutritionist at NativSol Kitchen
"Sometimes they have one or two slices of 100 percent whole grain toast topped with nut butter and honey with crushed hazelnuts or a whole grain waffle topped with nut butter and honey. On the weekends when we have more time I make whole grain pancakes with grated zucchini topped with fruits and maple syrup or scrambled eggs with dandelion greens or kale or arugula (yes, my kids love greens) and vidalia onion served with a side of fruit and 100 percent whole grain toast." ― Feller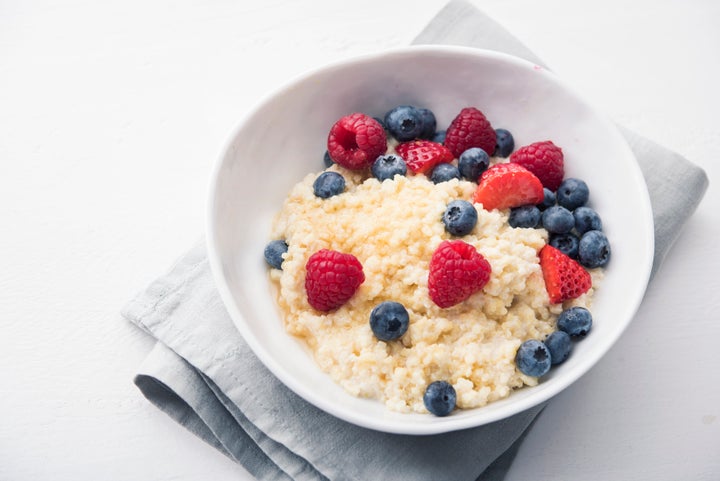 Three Food Groups
"My goal for breakfast for my kids (and myself) is to get in at least three food groups, including a source of lean protein. Typically for the kids, that translates into a slice of whole wheat toast with peanut butter and a glass of 1% milk or a bowl of low-sugar cereal with milk and fruit." ― Ilaria St. Florian, a clinical dietitian at Stamford Hospital
Homemade Options
"I have two girls, ages 12 and 17. Our favorite breakfast items are: egg muffins (eggs, bacon, spinach and cheese made in a muffin pan ― great for grab-and-go days), homemade cereal (rolled oats, nuts, seeds, blueberries) with almond milk (sometimes homemade, but usually not), homemade granola (I make this in my dehydrator), overnight oats (made in Mason jars, also good for grab and go), green smoothies made in my Vitamix and waffles made with a waffle maker (I like to make these in bulk and freeze them)." ― Stephanie Merchant, a food and lifestyle expert and founder of The Nutrition Mom
Nothing
"Much has been said about breakfast over the years. We all know the adage about eating like a king first thing in the morning. Well, that's a great idea for some people, but doesn't necessarily work for all. In other words, one size does not necessarily fit all! My motto for teens and adults is to eat when you are hungry. And, though I grew up as an unwilling member of the clean plate club, I advise parents against forcing children to finish everything on their plates. Parents need to decide what foods to bring into the kitchen and children decide how much to eat. … If your child does not like to eat before leaving for school (and the household is turned upside down in the process), send him or her to school with breakfast that can be consumed later at snack time." ― Lagano
Quotes have been edited and condensed for clarity.